Inspirerende Vegetarische Instagrammers #2
Ja precies, dit nog een pagina vol Instagram tips. Er zijn ook zoveel leuke mensen met toffe Instagram accounts dat het nooit bij een blogpost kon blijven. De Libelle nog schrijft dat je "bijna vergeet dat het vegetarisch is", maar hier mag je dat gewoon onthouden hoor. Vegetarisch eten is namelijk lekker dus ik stel voor dat je gewoon iets echt vervelends vergeet.
Foto: Jenna Day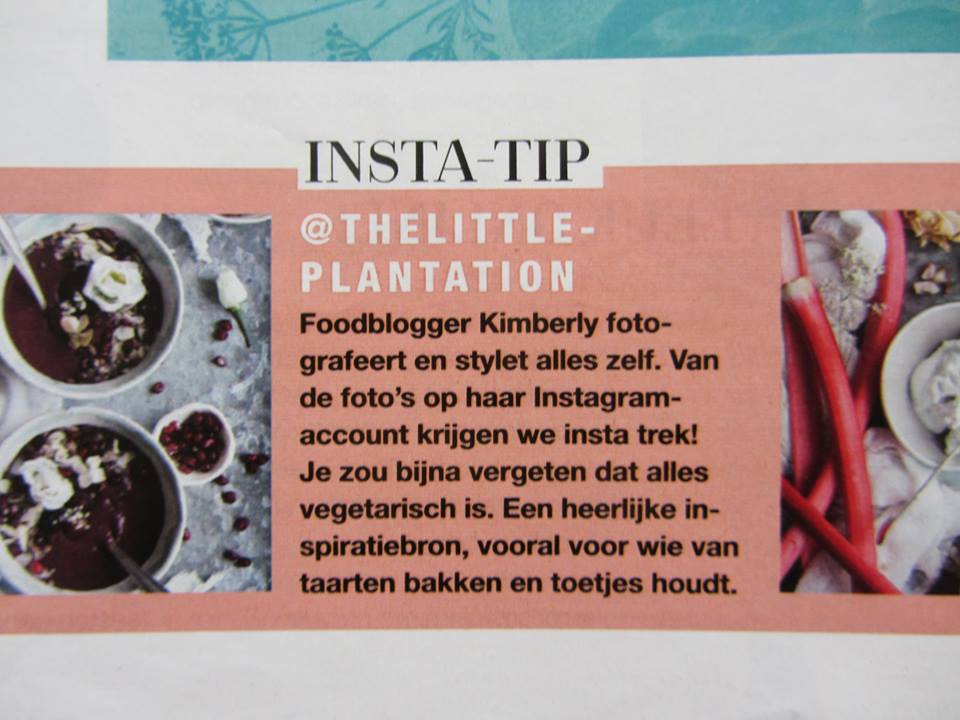 Anyway hier komen ze:
1. Timothy Pakron
Dit is de beste vriend van Isa Chandra Moskowitz, hij een wildplukker en veganist. Op zijn account mooie plaatjes van planten en plantaardige gerechten.
2. Forks & Beans
Spelen met je eten, dat doet Forks & Beans. Dit houdt in dat je allerlei gekke dingen op haar Instagram tegenkomt, zoals groente met ogen, grote broden in de vorm van een beer en meer van dat soort dingen.
3. Mihl van Seitan Is My Motor
Zijn mag ook niet ontbreken. Ik lees haar blog al zo lang ik blogs lees en dat is heel lang.

4. Erin Gleeson aka Forest Feast
Nu zie je de stijl van Erin Gleeson veel meer, maar zij was diegene die het zwierige lettertype en het aquareleffect groots maakte. Haar gerechten zijn eenvoudig en daardoor misschien wel uitstekend geschikt voor de zomer.

5. Isa Chandra Moskowitz
Dit is de naam waar ik ieder veganistisch kookboek mee vergelijk. Ze komt binnenkort met een jubileumeditie van Veganomicon. Als je hem nog niet hebt is het een uitstekende reden om hem te kopen, want er staan lekkere dingen in die bedoeld zijn voor elke dag.

6. Bosh!
Ze zijn super populair op Facebook vanwege hun veganistische kookfilmpjes. Bosh komt volgens mij van nosh, wat eten betekent. Ze komen volgend jaar natuurlijk ook met een kookboek, maar tot die tijd is het kijken van de filmpjes een prima manier om te ontspannen.

7. Thug Kitchen
Ja ook onze grofgebekte vrienden zitten op Instagram met hun vegan voer. Binnenkort komt ook hun derde kookboek in Nederland uit.

8. Natascha Boudewijn aka Green.Delicious
Natascha ken je misschien nog wel van het kookboek Share. Ze maakt hele mooie foto's, dus dan is Instagram het aangewezen medium om haar te volgen zou ik zeggen.

9. Rachel Demuth
Rachel was de hoofdpersoon bij het befaamde Engelse restaurant Demuths. Inmiddels heeft ze het restaurant verkocht en is ze een kookschool begonnen. Via haar account ze je wat daar zoal bereid wordt.

10. Smiths and Daughters
Hét restaurant van Melbourne, als ik de reviews mag geloven. Het is veganistisch en lekker duister ingericht, dus ik kijk graag mee met hun account.

11. Krautkopf
De befaamde Duitse bloggers van het boek Bieslook en Polenta.

12. Fourplay
Bekend van het gelijknamige boek en blog, maar schijnbaar heeft ze in de tussentijd de naam veranderd in "Just Martha". Geen probleem. Op haar Instagram vind je foto's van haar zoontje, van eten en van truien met allerhande slogans erop.

13. Golubka
Golubke betekent duifje. Op de Instagrampagina van Anya vind je allerlei fel gekleurde gerechten. Nom nom nom.

14. Oh She Glows
Net als Isa Chandra een van de eerste mensen waarvan ik het blog las, daarom mag ze niet ontbreken in dit overzicht.

15. Nicole Just
Ik vond haar boek Vegan Backen supercool en haar Instagram is ook heel leuk, dus bij deze. Ga er kijken.

16. Sophia Hoffmann
Bekend van Oh Sophia. Zij is veganist, kok en feminist en haar Instagram is een vrolijke verzameling.

17. Oh Lady Cakes
Ashlea is zelf geen veganist meer, maar haar blog is wel helemaal veganistisch en staat vol verrukkelijk uitziende gerechten. Vooral taart en andere zoetigheden.

18. The Little Plantation
Als Libelle niet weet wat ze met je aanmoeten verdien je een herkansing, dus hierbij: vegetarisch, mooie foto's LEKKER.
Posted by
Laurie
on 8 augustus, 2017